Welcome, Haeremai, Приветствовать, talofa, Willkommen, bienvenue, benvenuto
Edit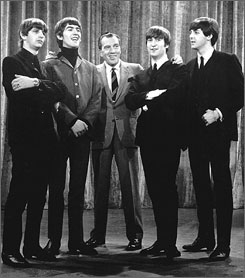 Welcome to The Beatles Wiki! We hope you can make continuing contributions of articles and/or discussion.
Keep an eye on the "recent changes" page page, where all edits and their authors (anonymous or signed-in) are listed. Bookmark it, maybe, so that you see it at the start of every visit. (And help delete spam - unpleasant but a fact of life.)
Discussion of any aspect of the site, and enquiries, can be made on the Talk page associated with each article. Sign and date your contributions there with four tildes ~~~~, so that readers know "who to talk to" and whether your message is still current. If you edit a user's Talk page, that user will get an alerting message when viewing the site.
It would help some of us to know how you discovered this site.
Enjoy!
---
Thank you for your edits! Just so you know, when beginning a song article, the quotation marks go outside the bold words, because they're not part of the song title. Gamma Metroid | talk | contribs | edits 03:01, September 28, 2009 (UTC)
Remember to add edit summaries, and make sure the images you've been uploading (thank you!) are free or under the public domain or something (pretty much just not copyrighted). Gamma Metroid | talk | contribs | edits 21:35, September 28, 2009 (UTC)
Sure, no problem. Also, as to how I found this site, I just searched the beatles from the main wikia page. Eleanor Rigby 22:59, September 28, 2009 (UTC)
Please use Template:Welc for welcoming users for the sake of consistency. There is also Template:WelcIP for anonymous users. Gamma Metroid | talk | contribs | edits 18:16, October 12, 2009 (UTC)