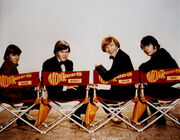 The Monkees were an American pop/rock group created by television producers, Bob Rafalson and Bert Schneider and music mogul, Don Kircshner in the mid-1960s for a television sitcom of a same name. The main members of the group were four actors, Davy Jones, Micky Dolenz, Peter Tork, and Michael Nesmith.
Dubbed "The Pre-Fab Four", the group's television series bore many similarities to
The Beatles
' two films,
A Hard Day's Night
and
Help! (film)
, and their albums and singles were crafted by some of the best songwriters and producers of the period. The band's television series premiered and thier first album was released shortly after
The Beatles
' last tour in September of
1966
and they quickly became popular with teenagers who had grown tired of the Beatles.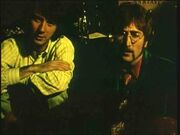 In 1967, during a tour of the United Kingdom, the Monkees met the Beatles, and John Lennon stated he was a fan of the group and proclaimed them "the greatest comedy team since the Marx Brothers". Group member Michael Nesmith appears in the A Day in the Life promo video, breifly chatting with John.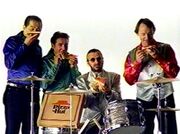 In 1995, Dolenz, Jones, and Tork appeared alongside
Ringo Starr
in a commerical for Pizza Hut.
Ad blocker interference detected!
Wikia is a free-to-use site that makes money from advertising. We have a modified experience for viewers using ad blockers

Wikia is not accessible if you've made further modifications. Remove the custom ad blocker rule(s) and the page will load as expected.