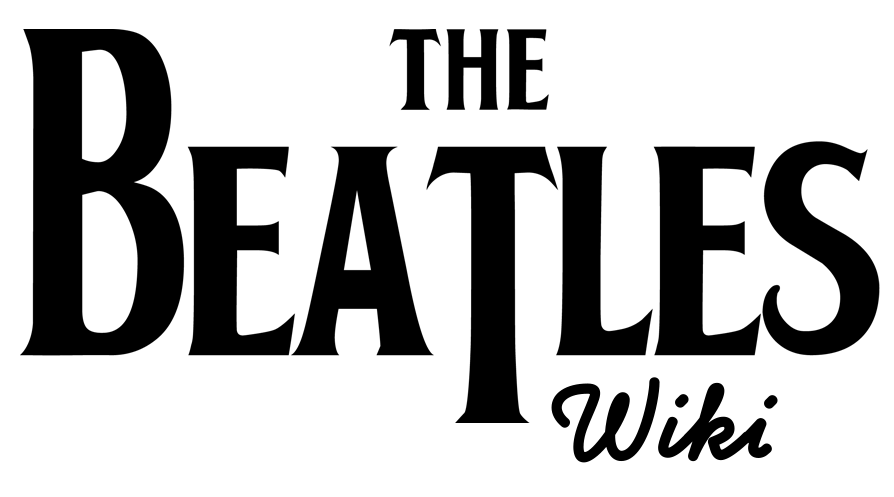 A Good Source For The Beatles Universe And Anything Else Related
Welcome To The Beatles Wiki! A wiki founded in 2006 by Vidur about the world's greatest musical act, adopted by Nobody Cares and Yeepsi in 2010, and again by Glamra in 2013. Ever since 2006, this wiki has given the finest Wikia information about The Beatles. And you can help! (Not sure how you can help? Check out this wiki's to-do list.)
IMPORTANT: By editing or uploading on this wiki, you indicate that you have read all the policy pages and that you agree to abide by them.
About • Policy • All policy pages
Beatles News
Loading RSS data...
Featured Song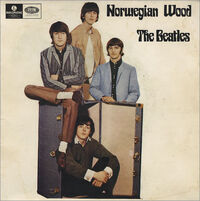 Norwegian Wood is a song written and sung by John Lennon, released on the Rubber Soul album in 1965. This track is generally credited as being the first pop recording to use the sitar, an Indian stringed instrument. "Norwegian Wood" sparked a musical craze for the sound of the novel instrument in the mid-Sixties. The song is now acknowledged as one of the cornerstones of what is now usually called "world music" and it was a major landmark in the trend towards incorporating non-Western musical influences into Western popular music.
Featured Album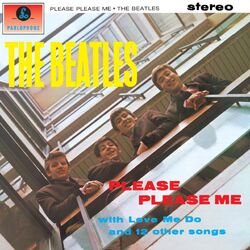 Please Please Me is the first official studio album by The Beatles. It was released on March 22, 1963 and became a number one hit on the same year in the United Kingdom. In 2003, Rolling Stone ranked the album number 39 on its list of Rolling Stone's 500 Greatest Albums of All Time.

In the United States, many of the songs on the album were first issued on Vee-Jay Records' Introducing...The Beatles in 1964, and then subsequently on Capitol Records' The Early Beatles in 1965. In a review, the All Music Guide says "Decades after its release, the album still sounds fresh, precisely because of its intense origins."
Featured Article
"Ticket to Ride" is a song by The Beatles, written mostly by John Lennon (credited Lennon/McCartney. It was featured on their album Help!. It was released as a single in 1965, with "Yes It Is" as its B-side.
The new year saw a change in the Beatles and George Martin's recording technique. They would rehearse new songs in the studio with the tapes running. Once they felt they had reached perfection, the tapes would be spooled back and proper takes would be recorded over the rehearsals, resulting in longer studio sessions but more economical in terms of tape since take numbers remained relatively low. Rhythm tracks would be recorded first with unnumbered overdubs "dropped in" at will, whereas before every overdub would have been allotted a new number. "Ticket To Ride" was the first song tackled on Monday, February 15, during the afternoon. Although this session lasted all afternoon, because of the new recording procedure, the song was captured in just two takes, with the first having an immediate false start. [...]
See Also: This Day in Beatles History
Did You Know...
The Beatles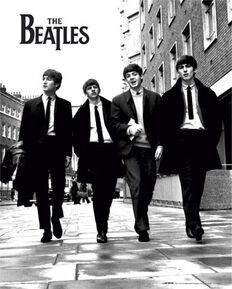 No band has influenced pop culture the way The Beatles have. They were one of the best things to happen in the twentieth century, let alone the Sixties. They were youth personified. They were unmatched innovators who were bigger than both Jesus and rock & roll itself: During the week of April 4, 1964, the Beatles held the first five slots on the Billboard Singles chart; they went on to sell more than a billion records; and 2000's 1 , a compilation of the Beatles Number One hits, hit Number One in 35 countries and went on to become the best-selling album of the 2000s.

Every record was a shock when it came out. Compared to rabid R&B evangelists like the Rolling Stones, the Beatles arrived sounding like nothing else. They had already absorbed Buddy Holly, the Everly Brothers and Chuck Berry, but they were also writing their own songs. They made writing your own material expected, rather than exceptional. As musicians, the Beatles proved that rock & roll could embrace a limitless variety of harmonies, structures, and sounds; virtually every rock experiment has some precedent on Beatles records. As a unit the Beatles were a synergistic combination: Paul McCartney's melodic bass lines, Ringo Starr's slaphappy no-rolls drumming, George Harrison's rockabilly-style guitar leads, John Lennon's assertive rhythm guitar — and their four fervent voices. As personalities, they defined and incarnated Sixties style: smart, idealistic, playful, irreverent, eclectic. Their music, from the not-so-simple love songs they started with to their later perfectionistic studio extravaganzas, set new standards for both commercial and artistic success in pop.
Featured Quote
"Somebody said to me, 'But the Beatles were anti-materialistic.' That's a huge myth. John and I literally used to sit down and say, 'Now, let's write a swimming pool.' " - Paul McCartney
Featured Video
Poll
Who is your favourite Beatle?
Featured Image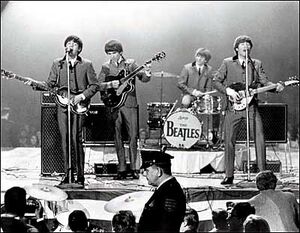 The Beatles' last live concert on September 29, 1966. (Candlestick Park, San Francisco)
Links