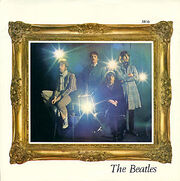 Strawberry Fields Forever
is a song sung by the Beatles in 1967. It was originally intended to be on
Sgt. Pepper's Lonely Hearts Club Band
, but was released as a single. "
Who said singles could not be put on an album"
is a famous saying. So Strawberry Fields Forever and Penny Lane made the cut to go on Magical Mystery Tour. It is rumoured to be a drug song. "
Strawberry Fields is a real place~John[1]"
. Though a popular song, it did not make it onto the 2000 album,
1
; although it is on the second Blu-Ray disc of
1+
.

It is rumoured that during the musical part at the end of the song that someone (possibly John) says, "I buried Paul", which is thought to be a clue to the Paul is Dead conspiracy theory, though it can be argued that he was merely saying, "cranberry sauce", and John himself denies the "I buried Paul" statement quite blatantly. It is featured on LOVE, the soundtrack to the performance. It is also covered in the film Across the Universe by the characters of Jude and Max during a scene in which you see Jude throwing strawberries at a wall and Max fighting in the Vietnam War.
One of the Bond Girls in the James Bond Movie "Quantum of Solace" is called Strawberry Fields. Agent Strawberry Fields is an MI6 agent who works at the British consulate in Bolivia in the 2008 film Quantum of Solace. She is portrayed by Gemma Arterton. She is later killed by Crude Oil.
Personnel
Edit
John Lennon - Lead Vocals, lead Guitar (Gibson J-160E), Bongos, Mellotron
Paul McCartney - Mellotron, Bass Guitar (Rickenbacker 4001S), Piano, Lead Guitar, Timpani
George Harrison - rhythm Guitar[ Epiphone Casino 230T], Swarmandel, Maracas
Ringo Starr - Drums, Backwards Cymbals
Mal Evans - Tambourine
Neil Aspinall - Guiro
Terry Doran - Maracas
Tony Fisher - Trumpet
Greg Bowen - Trumpet
Derek Watkins - Trumpet
Stanley Roderick - Trumpet
John Hall - Cello
Derek Simpson - Cello
Norman Jones - Cello
References
Edit

No... A stub?
Please sing into it if you can.