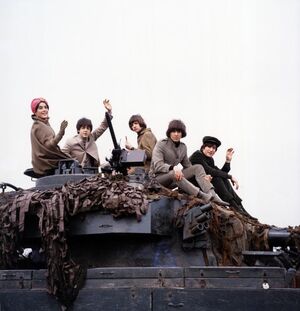 She's a Woman
is a song written by Paul McCartney, credited
Lennon/McCartney
. It is the B-side to
I Feel Fine
.
There is a scene in Help! that includes the playback of She's a Woman as a decoy for the leader of the cult while the group records I Need You in a field surrounded by tanks.
The song was also performed live in Japan at the Nippon Budokan in 1966.
John Lennon - rhythm guitar (1964 Rickenbacker 325)
Paul McCartney - lead vocal, bass guitar (1963 Hofner 500/1)
George Harrison - lead guitar (1964 Rickenbacker 325)
Ringo Starr - drums, chocalho
Ad blocker interference detected!
Wikia is a free-to-use site that makes money from advertising. We have a modified experience for viewers using ad blockers

Wikia is not accessible if you've made further modifications. Remove the custom ad blocker rule(s) and the page will load as expected.