Please Please Me (song)
Talk

0
656pages on
this wiki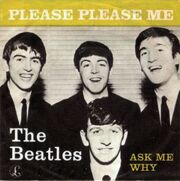 Please Please Me
is a song by
The Beatles
. It is mostly a
Lennon
composition, though credited
McCartney/Lennon
, and included on the album
Please Please Me
. It was released as a single with "
Ask Me Why
" as its B-side.
Writing and Recording
Edit
Practically a sole Lennon composition, John wrote it in the style of Roy Orbison. Originally, it was in a slower tempo.
A trial run at "Please Please Me" was recorded on September 11, 1962, the same day as "P.S. I Love You" and the album version of "Love Me Do." The revamped version which became the single was made on November 26 within 18 takes and edit pieces.
"Please Please Me" was the second single by the Beatles in the United Kingdom. There is some dispute as to the song's chart position. 3 out of 4 chart publications ranked it as a #1 while the fourth had it peak at #2. If indeed a #1 smash, it was the first time a Liverpool act achieved such a feat. Whatever the case, this single made the Beatles huge in popularity beyond their Merseyside fan base.
This single, like the original compositions on the Please Please Me album, has the songwriters credited as McCartney-Lennon, in a dispute over ego and songwriting domination. Subsequently, Lennon's name always appeared first. As Paul later said, "John got his way, as usual!"
The song was released as the first single in America on Vee-Jay Records in February 1963 where upon the label the group's name was misspelled as "Beattles." It was released twice more in January 1964 and August 1964. It charted after the second time, reaching #3.
Originally, George Harrison played a guitar intro on "Please Please Me" which was later replaced by John's harmonica. After the second take, George Martin told the group that they would have their first number one hit with the song. This completely changed his mind about releasing "How Do You Do It" as their follow-up single. "How Do You Do It" was released by Gerry and the Pacemakers, making it to the top spot a few weeks after "Please Please Me."
The mono and the stereo versions contain a different edit for the final verse. On the mono version, the edit is clean and practically unnoticeable. On the stereo, however, the edit is much sloppier (occurring at 1:27). On this take, John messes up some lyrics. This flub and his giggle remain ever afterwards.
The stereo edit piece of the harmonica is also different at 1:45. The timing goes slightly out of sync. The harmonica is slower than the rhythm channel and only catches up during the last three chords.
"Please Please Me" was the song played on the Beatles first national TV appearance on Thank Your Lucky Stars on January 19, 1963.
Rolling Stone ranked the song at #184 on its list of the 500 Greatest Songs of All Time.