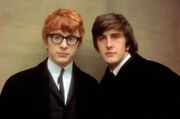 Peter Asher (born 22 June, 1944) is an English musician, actor and record producer.  In the 1960s he and Gordon Waller created the duo Peter and Gordon. Peter is the brother of actress Jane Asher and through her he got to meet Paul McCartney, who wrote a few songs for Peter and Gordon.  These songs, such as A World Without Love, were credited to Lennon-McCartney. 
Ad blocker interference detected!
Wikia is a free-to-use site that makes money from advertising. We have a modified experience for viewers using ad blockers

Wikia is not accessible if you've made further modifications. Remove the custom ad blocker rule(s) and the page will load as expected.