Paul is dead
Talk

5
656pages on
this wiki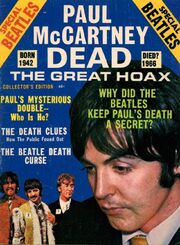 "Paul is dead" is an urban legend suggesting that Paul McCartney of the English rock band, The Beatles died in 1966 and was secretly replaced by a look alike .
In September 1969, American college students published articles claiming that clues to McCartney's death could be found among the lyrics and artwork of The Beatles' recordings. Clue hunting proved infectious and within a few weeks had become an international phenomenon. Rumours declined after a contemporary interview with McCartney was published in Life magazine in November 1969. Popular culture continues to make occasional reference to the legend.
Numerous songs contain backmasking that suggests a lot of factors that led to Paul McCartney's supposed death. These "clues", however (along with many of the visual ones) contain strong elements of pareidolia (the tendency of the human mind to see more detail than is actually present, especially if actively looking for it). For instance, someone who is a "Paul is dead" fan and is playing the "number nine" clip backwards with the specific intention of hearing something death-related, will probably hear it as "turn me on, dead man" (as will someone who has been told to expect to hear that); but another person, listening to the same clip without preconceptions, is perhaps more likely to hear "turn me o-" trailing off into indistinct mumbling.
The most pressing evidence was what they called the "Last Testiment of George Harrison" A cassette tape labeled "The Last Testiment of George Harrison" was supposedly sent to a filmmaking studio in hopes that a movie would be made about it, and sure enough, a documentary was made about what was said on the tape. It was called, "Paul McCartney Really Is Dead: The Last Testament of George Harrison." The documentary had many flaws, including records being put out out-of-order and audio quality that was far too good for casset tapes.
External Links
Edit