Octopus's Garden
Talk

0
656pages on
this wiki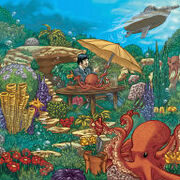 Octopus's Garden is a song from Abbey Road, The Beatles' second-to-last album. It is known for being the second song Ringo Starr wrote for the Beatles. The song was inspired by a boating trip he took in 1968 with his family, during which he learned the fact that octopi are fond of collecting stones and shiny objects underwater, which they build "gardens" with. Ringo, who thought that an octopus's garden was one of the happiest things he'd heard, was inspired to write the song.
Ringo admits that he had a hard time showing this song to his fellow bandmates, as they usually mocked his compositions.
Love versionEdit
The version on the album Love (created by George Martin and his son, Giles, for Cirque du Soliel) has the strings from Good Night, the sound effects/vocal elements from Yellow Submarine, guitar elements from Sun King (which had been used earlier as Gnik Nus) and some elements from Helter Skelter and Lovely Rita. It comes after Lucy in the Sky with Diamonds and transistions into Lady Madonna.
Is one of the first 45 songs on The Beatles: Rock Band.
Is know as Ringo Starr's most popular song through his career.
The song was used in a parody/tribute by College Humor called "Ringo Wants to Sing More".

No... A stub?
Please sing into it if you can.