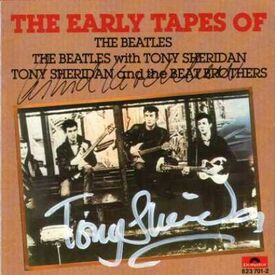 "My Bonnie" was a single released by The Beatles on January 5th, 1962. It was released by Polydor, and hit #48 on the charts, but remained on for only 1 week. This was only after they became famous. A version of "My Bonnie" is estimated to be worth 50 UK Pounds today.
My Bonnie/The Saints (US)
Edit
This single was released in the US shortly after it was in the UK, on April 23, 1962, by Decca.
External Links
Edit
Ad blocker interference detected!
Wikia is a free-to-use site that makes money from advertising. We have a modified experience for viewers using ad blockers

Wikia is not accessible if you've made further modifications. Remove the custom ad blocker rule(s) and the page will load as expected.