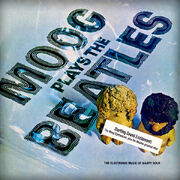 Moog Plays the Beatles
is a 1969 album by Marty Gold. It is exactly what the name says: an early synthesizer album covering 12 of
the Beatles
' songs. It is surprisingly non-gimmicky for such an early synth album.
The original sleeve has a pair of small, naked clay figurines in the bottom right corner; a woman on the left and a man on the right. (On the back of the sleeve they are seen from the rear and hence the other way around.) On the download version (which has only the front picture), the figurines still appear, but their naughty bits are covered by a flash saying "Startling Sound Excitement! The Moog Synthesiser, plus The Beatles greatest hits!" By doing a Google image search, it is possible to find the original uncensored cover.
This album can be downloaded from iTunes.
Track Listing
Edit
Ad blocker interference detected!
Wikia is a free-to-use site that makes money from advertising. We have a modified experience for viewers using ad blockers

Wikia is not accessible if you've made further modifications. Remove the custom ad blocker rule(s) and the page will load as expected.