Martha My Dear
is a song written by
Paul McCartney
about his English Sheepdog, Martha. This song is on
the white album
.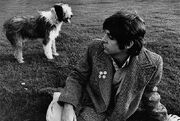 The song was recorded on October 4 1968 with only 2 Beatles being present, Paul and George, as seen playing his Gibson Les Paul in the picture below.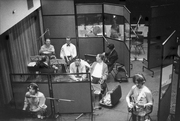 Paul McCartney -Lead Vocals, Bass Guitar (1964 Rickenbacker 4001S), Lead Guitar (1965 Epiphone 230TD Casino), Piano, Drums and Handclaps
George Harrison -Rhythm Guitar (1957 Gibson Les Paul Standard)
Bernard Miller-Violin
Dennis McConnell-Violin
Lou Sofier-Violin
Les Maddox-Violin
Leo Birnbaum-Viola
Henry Myerscough-Cello
Frederick Alexander-Cello
Leon Calvert-Trumpet and Flugelhorn
Stanley Reynolds-Trumpet
Ronnie Hughes-Trumpet
Tony Tunstall-French Horn
Ted Barker-Trombon
Alf Reese-Tuba
No... A stub?
Please sing into it if you can.
Ad blocker interference detected!
Wikia is a free-to-use site that makes money from advertising. We have a modified experience for viewers using ad blockers

Wikia is not accessible if you've made further modifications. Remove the custom ad blocker rule(s) and the page will load as expected.