List of Instruments
Talk

0
657pages on
this wiki
List of Instruments
Edit
This is a list of various instrumenst that are owned, played by, or u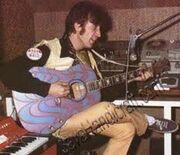 sed by
The Beatles
.
The Beatles have widely been known to use guitars throughout their performances, music, and recordings. Due to being associated with The Beatles, many of these instruments have been sought after by many musicians, fans, hobbyists, collectors, and players.
Rickenbacker
Edit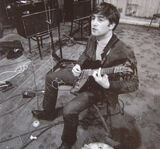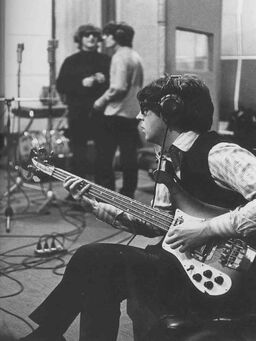 1964 Rickenbacker 325 Electric (Lennon)
1964 Rickenbacker 325-12 Electric (Lennon)
1964 Rickenbacker 325 1996 model Electric (Lennon)
1963 Rickenbacker 360-12 Electric (Harrison)
1965 Rickenbacker 360-12 Electric (Harrison)
1964 Rickenbacker 4001S-Lh Bass Electric (McCartney)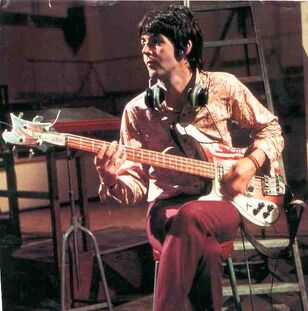 Höfner Club 40 (Lennon/McCartney)

Paul with his Hofner "Violin" bass guitar

Added by

StrawberryPhoenixForever

1961 Höfner 500/1 Violin Bass (McCartney)
1963 Höfner 500/1 Violin bass (McCartney)
Epiphone Casino
Epiphone Texan

McCartney used this as his acoustic guitar until he got a Martin in the later years.
George had a Gibson Les Paul that was a gift from Eric Clapton that was used on While My Guitar Gently Weeps by Clapton.

It was gold topped before it was refinished to a cherry red at the Gibson factory.
was stolen from under George's bed in 1970 and was later purchased at a Guitar Center in Hollywood , California.

George had to trade a '56 Les Paul and a Precision Bass for it.

It was nicknamed "Lucy" after comedienne Lucille Ball.

Gibson SG

George used a Gibson SG for Rain , Paperback Writer , and Lady Madonna.

John and George used a Gibson J-160e.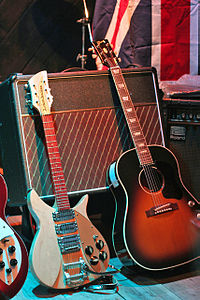 1966 Sonic Blue Fender Stratocaster (Lennon/ Harrison)

George during the Let it Be sessions with his new Telecaster

George later repainted his.

1969 Fender Rosewood Telecaster

Was gifted to George as a Prototype.
Used on the Let It Be rooftop concert.
Ringo had a Ludwig kit with an Oyster Pearl finish and the classic Drop-T logo.
For Magical Mystery Tour , he painted his own drum head.