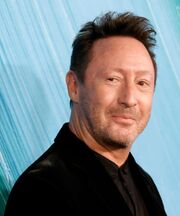 John Charles Julian Lennon (born 8 April 1963), known universally as Julian Lennon, and by some fans as Jude, is an English singer, songwriter, musician, and first son of Beatle John Lennon and the only child of Lennon's first wife Cynthia Lennon. His godfather was the Beatles' manager Brian Epstein. His father's nickname for him was "JCJ" , and he was named after John Lennon's late mother, Julia Lennon.
The song Hey Jude was written by Paul McCartney in an attempt to console him after his parents' divorce.
Ad blocker interference detected!
Wikia is a free-to-use site that makes money from advertising. We have a modified experience for viewers using ad blockers

Wikia is not accessible if you've made further modifications. Remove the custom ad blocker rule(s) and the page will load as expected.