James George "Jimmie"/"Jimmy" Nicol (b. 3 August 1939, Barnes, South West London), was temporarily the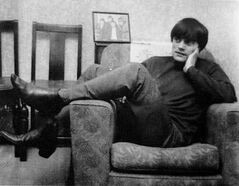 drummer, for replacing
Ringo Starr
in
The Beatles
for a number of concerts during the height of
Beatlemania
in 1964. He went from relative obscurity to worldwide fame and back in the space of a fortnight. Nicol hoped that his period with The Beatles would advance his career, but found that the spotlight moved away from him once Starr returned to the group. His subsequent lack of commercial success led him to bankruptcy in 1965. After then working with a number of different bands, including a successful phase with The Spotnicks, he finally left the music business altogether in 1967 to pursue a variety of entrepreneurial ventures. Nicol would later refuse to discuss his brief period with The Beatles, and has not sought monetary gain from it. He has a son, Howard, who is a BAFTA award-winning sound engineer.
Ad blocker interference detected!
Wikia is a free-to-use site that makes money from advertising. We have a modified experience for viewers using ad blockers

Wikia is not accessible if you've made further modifications. Remove the custom ad blocker rule(s) and the page will load as expected.