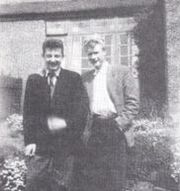 Ivan Vaughan
(18 June 1942 - 16 August 1993) was a boyhood friend of
John Lennon
, and later schoolmate of
Paul McCartney
at the Liverpool Institute, both starting school there in Sept. 1953. He was born on the same day as Paul McCartney in Liverpool. He played bass part-time in Lennon's first band, The Quarrymen, and was responsible for introducing Lennon to Paul McCartney at a community event (the Woolton village fête) on July 6, 1957, where The Quarrymen were performing. McCartney impressed Lennon, who invited McCartney to join the band, which he did a few weeks later. This led to the formation of Lennon and McCartney's songwriting partnership, and later of
The Beatles
.
Vaughan studied classics at University College, London, married in 1966 and settled down to family life with a son and daughter, and became a teacher.
Lennon and McCartney never forgot the friend who brought them together. For a time they put Vaughan on the payroll of their Apple company, in charge of a plan that never took off to set up a school with a Sixties, hippie-style education ethos. Vaughan's wife Jan, a languages teacher, was hired to sit down with Lennon and McCartney and help with the French lyrics to the 1965 song "Michelle".
In 1977 Vaughan was diagnosed with Parkinsons disease. His book, "Ivan: Living with Parkinson's Disease" was published in 1986 and he also featured in a documentary produced for the BBC in 1984 by Jonathan Miller about his search for a cure.
Vaughan's death touched Paul McCartney so deeply that he began to write poetry for the first time since he was a child. He wrote the poem "Ivan" about him after his death, and was published in McCartney's book, Blackbird Singing
Ad blocker interference detected!
Wikia is a free-to-use site that makes money from advertising. We have a modified experience for viewers using ad blockers

Wikia is not accessible if you've made further modifications. Remove the custom ad blocker rule(s) and the page will load as expected.