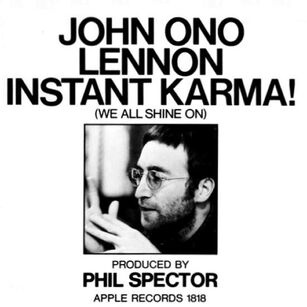 "Instant Karma!", sometimes referred to as "Instant Karma! (We All Shine On)", is a song by John Lennon. It was released as a single in February 1970, credited to John Lennon and the Plastic Ono Band in the UK. It was produced by Phil Spector, who went on to produce the Let It Be album, All Things Must Pass, and Imagine.
Ad blocker interference detected!
Wikia is a free-to-use site that makes money from advertising. We have a modified experience for viewers using ad blockers

Wikia is not accessible if you've made further modifications. Remove the custom ad blocker rule(s) and the page will load as expected.