I'll Get You is a song by The Beatles. Although credited Lennon/McCartney, it was primarily written by Paul McCartney. Originally released on a single in 1963, it was the B-side to "She Loves You".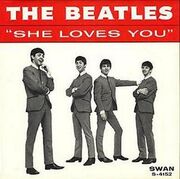 In 1963, "I'll Get You" was released as a single on two seperate occasions, both of which on the Swan Records label in the US, the only two singles The Beatles ever released through them (they were released on the Parlophone label in the UK). It was first released on the B-side of "She Loves You", and then (only in the US), on the B-side of "Sie Liebt Dich", a German language version of "She Loves You".
On April 10, 1964, it was also released in the US on The Beatles' Second Album. A live version (recorded at the London Palladium on October 13, 1963) is on Anthology. The Rarities volume of The Beatles Collection features this song, as well as Volume 1 of Past Masters.
Background
Edit
John and Paul wrote this song together at John's house. It was written as a follow-up to "From Me to You."
For lyrics, please click here.
Ad blocker interference detected!
Wikia is a free-to-use site that makes money from advertising. We have a modified experience for viewers using ad blockers

Wikia is not accessible if you've made further modifications. Remove the custom ad blocker rule(s) and the page will load as expected.