Help! (album)
Talk

0
656pages on
this wiki
Help!
is the fifth album by
The Beatles
; it was released in August of 1965. Produced by
George Martin
for EMI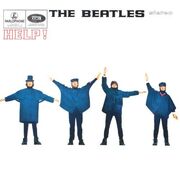 Records, the album (in its original British form) contains seven songs that appeared in the
movie of the same name
, and seven that did not, including the
Paul McCartney
ballad
Yesterday
, the most covered song of all time.
George Harrison
contributed the songs "
I Need You
" and "
You Like Me Too Much
." These were Harrison's second contributions to a Beatles album; the first was "
Don't Bother Me
", from
With the Beatles
. In 2003, the album was ranked number 332 on Rolling Stone Magazine's list of the 500 Greatest Albums of All Time. The album is often regarded as the last of the "early" albums and a transition from the old rock and roll days and to the more creative side of the Beatles. The album is the last to contain a cover (save "Maggie Mae" from the album
Let It Be
), which was "Act Naturally".
All songs Lennon/McCartney except where otherwise noted.
All songs on side one appear in the movie.
Tracks (American version)
Edit
"Help!" (preceded by Ken Thorne's "James Bond Theme" instrumental arrangement)
"From Me to You Fantasy" (instrumental) (Lennon, McCartney, Ken Thorne)
"I Need You" (Harrison)
"In The Tyrol" (instrumental) (Ken Thorne)
"Another Hard Day's Night" (instrumental) (Lennon/McCartney, Thorne)

Stereo Cover

"Ticket to Ride"
Medley: "The Bitter End" (Ken Thorne)/"You Can't Do That" (instrumental) (Lennon/McCartney, arranged by Ken Thorne)
"The Chase" (instrumental) (Ken Thorne)
John Lennon: Vocals, Electric Piano, Guitar, Tambourine
Paul McCartney: Vocals, Bass, Bass Guitar, Electric Piano, Guitar, Piano
George Harrison: Vocals, Guitar
Ringo Starr: Drums, Vocals, Bongos, Claves, Marimbas, Tambourine
George Martin: Producer, Piano
Robert Freeman: Photography
Kenneth Essex: Viola
Francisco Gabarro: Cello
Tony Gilbert: Violin
Sidney Sax: Violin
John Scott: Flute
External Links
Edit