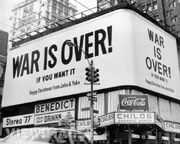 "Happy Xmas (War Is Over)" is a song written by John Lennon and Yoko Ono and released in 1971 as a single by John & Yoko/Plastic Ono Band with the Harlem Community Choir.
The song reached number 4 on the UK Singles Chart (where release was delayed until 1972). Ostensibly a protest song about the Vietnam War, it has become a Christmas standard, appearing on several Christmas albums, and was voted the ninth favourite Christmas song in a poll by music channel VH1. The song was re-released in the UK on 20 December 1980, shortly after Lennon's murder on 8 December, and peaked at number 2 in the chart battle for the Christmas number one.
This page uses Creative Commons Licensed content from Wikipedia (view authors).
As there are far too many pages of this type, this page must be edited to be original at the earliest possible moment.
This tag must not be removed until the rewrite is done — doing so is a (possibly criminal) violation of Wikipedia's copyright.
Ad blocker interference detected!
Wikia is a free-to-use site that makes money from advertising. We have a modified experience for viewers using ad blockers

Wikia is not accessible if you've made further modifications. Remove the custom ad blocker rule(s) and the page will load as expected.