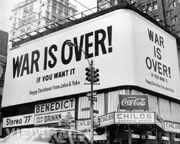 "Happy Xmas (War Is Over)" is a song written by John Lennon and Yoko Ono and released in 1971 as a single by John & Yoko/Plastic Ono Band with the Harlem Community Choir.
The song reached number 4 on the UK Singles Chart (where release was delayed until 1972). Ostensibly a protest song about the Vietnam War, it has become a Christmas standard, appearing on several Christmas albums, and was voted the ninth favourite Christmas song in a poll by music channel VH1. The song was re-released in the UK on 20 December 1980, shortly after Lennon's murder on 8 December, and peaked at number 2 in the chart battle for the Christmas number one.
Ad blocker interference detected!
Wikia is a free-to-use site that makes money from advertising. We have a modified experience for viewers using ad blockers

Wikia is not accessible if you've made further modifications. Remove the custom ad blocker rule(s) and the page will load as expected.