Elvis Aaron Presley was born on January 8 1935 in Tupelo Mississipi, the son of Vernon and Gladys Presley.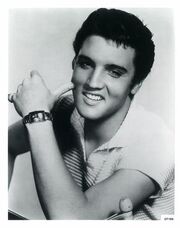 When he was 13 his family moved to tennessee where Elvis got a guitar for his birthday.
Elvis was a good singer and became very famous in the 1950s. He met The Beatles in 1965 and died in August 1977.
Elvis is said to be the greatest and most successful solo artist of all time. He was rated number three in Rolling Stone's 100 Greatest Artists of All Time. Two of his most famous songs are Hound Dog and In the Ghetto.

Ad blocker interference detected!
Wikia is a free-to-use site that makes money from advertising. We have a modified experience for viewers using ad blockers

Wikia is not accessible if you've made further modifications. Remove the custom ad blocker rule(s) and the page will load as expected.