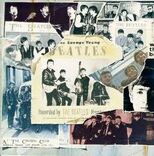 "
Cayenne
" is an instrumental track by The Beatles. It was recorded by the band in 1960, when they were still known as the Quarrymen, and not officially released until its inclusion on the 1995 album Anthology 1.
It is not certain where or when "Cayenne" and The Quarrymen bootlegs from this time period were recorded. According to Paul McCartney, the recordings were made in the McCartney family bathroom in April 1960. The song is not credited to Lennon/McCartney but to Paul McCartney alone, indicating that at this stage Lennon and McCartney had not agreed on the joint writing credit that they used for all of the band's professional recording career. The track is an instrumental jam similar in style to that of the Shadows. Stuart Sutcliffe plays bass with what critic Richie Unterberger described as an "artless thump". "Cayenne" is a 12-bar blues composition in the key of d-minor.
"Cayenne" and two other homemade Quarrymen recordings, "Hallelujah, I Love Her So" and "You'll Be Mine", were included in Anthology 1, a collection of Beatles rarities and alternate tracks from 1958 to 1964. They are the only officially released Beatles recordings to feature Stuart Sutcliffe on bass. Sutcliffe, John Lennon's close friend from art college, joined the band in 1960 as the bass player and played with them in Hamburg in 1960 and 1961 before leaving to concentrate on his art studies. Sutcliffe died of a brain hemorrhage in 1962.
Ad blocker interference detected!
Wikia is a free-to-use site that makes money from advertising. We have a modified experience for viewers using ad blockers

Wikia is not accessible if you've made further modifications. Remove the custom ad blocker rule(s) and the page will load as expected.