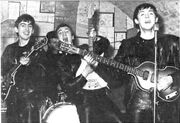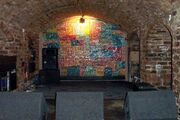 The
Cavern Club
is an old pub in Liverpool on Matthew Street. In the beginning the Cavern was a jazz club and a classical music club, but when rock and pop came to the world, the Cavern changed to a pop and rock club. In 1962
The Beatles
, a young group with four members
Paul McCartney
,
John Lennon
,
George Harrison
and
Pete Best
, started performing there. They were the most popular band the Cavern Club had seen. The Cavern was the most famous club in England in the '60s because The Beatles had played there very often.
The venue is featured as a level in the video game The Beatles: Rock Band.
Ad blocker interference detected!
Wikia is a free-to-use site that makes money from advertising. We have a modified experience for viewers using ad blockers

Wikia is not accessible if you've made further modifications. Remove the custom ad blocker rule(s) and the page will load as expected.