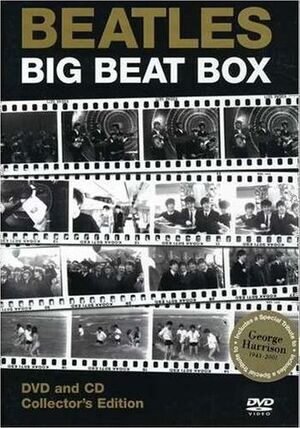 Big Beat Box
is a box set released in 2002, consisting of a 50-minute compilation DVD of
Beatles
newsreel footage, plus a CD of Beatles cover versions by The Overtures.
The first track on the CD is "In Spite of All the Danger", a supposed "re-creation of a lost John Lennon track"; but it is not the track which the Beatles recorded under that name, which in any case was actually written by Paul McCartney and George Harrison. This is ironic, given that Big Beat Box was supposedly produced in memory of George Harrison.
CD track list
Edit
All tracks are performed by The Overtures. Tracks 1 and 5 are imaginings of what the Beatles' track of that name supposedly sounded like.
In Spite of All the Danger
A Taste of Honey
Words of Love
Anna (Go To Him)
In Spite of All the Danger (Instrumental)
Roll Over Beethoven
Behind the Beat
Sgt. Pepper's Lonely Hearts Club Band (Instrumental)
With a Little Help From My Friends (Instrumental)
Lucy in the Sky With Diamonds (Instrumental)
I Am the Walrus (Instrumental)
She's Leaving Home (Instrumental)
Got to Get You Into My Life (Instrumental)
External Links
Edit
Ad blocker interference detected!
Wikia is a free-to-use site that makes money from advertising. We have a modified experience for viewers using ad blockers

Wikia is not accessible if you've made further modifications. Remove the custom ad blocker rule(s) and the page will load as expected.