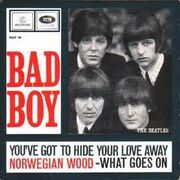 Bad Boy
is a song by
The Beatles
, written by Larry Williams.
In the UK, this song was released as a single and was later put on Past Masters volume 1. In the USA, this song was put on Beatles VI, on Side 1. It was recorded at Abbey Road Studios in England.
Ad blocker interference detected!
Wikia is a free-to-use site that makes money from advertising. We have a modified experience for viewers using ad blockers

Wikia is not accessible if you've made further modifications. Remove the custom ad blocker rule(s) and the page will load as expected.