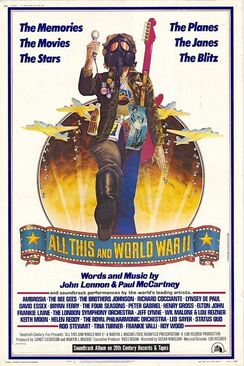 All This and World War II
is a musical documentary originally released in 1976. The film is noted for its unusual concept, juxtaposing stock and newsreel footage of World War II and other films of the period with a soundtrack of covers of songs by
The Beatles
preformed by comtemporary pop artists. The film was only in theatres for two weeks and heavily panned by critics. It has never been released on home video or DVD. For these reasons,
it is very rare and hard to find. It doesn't even have an
IMDB
page.
The Soundtrack
Edit
Ad blocker interference detected!
Wikia is a free-to-use site that makes money from advertising. We have a modified experience for viewers using ad blockers

Wikia is not accessible if you've made further modifications. Remove the custom ad blocker rule(s) and the page will load as expected.