All My Loving
Talk

0
660pages on
this wiki
All My Loving is a song by The Beatles, written by Paul McCartney. The song is featured on the album With the Beatles.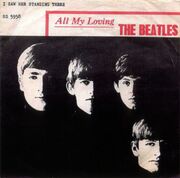 "All My Loving" is the song that first introduced the Beatles to America on the Ed Sullivan Show. It was recorded over six months earlier on July 30, 1963. It was captured in 13 takes (numbered 1-14 but there was no take 5), 12-14 being overdubs. The master was the overdub 14 onto take 11. George played his guitar in the style of Chet Atkins, one of his idols. This song marked the first time that George Martin double-tracked Paul's voice, which he later regretted. Although this was commonplace with John or George recordings, Paul was rarely double-tracked.
Paul composed the song while shaving as a poem for Jane Asher. It was the first time that McCartney wrote the lyrics of a song before coming up with the tune.
"All My Loving" was not a single in America, but it was released as a single in Canada. Many copies trickled into the states, enough to push the song to #45 on the charts.
On the Dutch and German "Beatles Greatest" LP, you can clearly hear Ringo's 5-beat tap on the cymbals which was used as a count-in when recording "All My Loving." This was the only place to find this strange banding oddity.
This song appears in the movie A Hard Day's Night, but is not featured on the soundtrack. A instrumental version also appears in the Magical Mystery Tour film, played on accordion by Shirley Evans.
In a somewhat gruesome coincidence, a muzak rendition of "All My Loving" was playing at Roosevelt Hospital when the doctors were trying to save John Lennon's life on December 8, 1980.