Act Naturally is a song by The Beatles, originally written by Johnny Russell and Voni Morrison. It was released on the Help! album, and was also a single backed by Yesterday.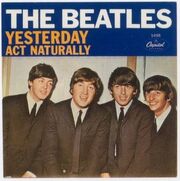 The Beatles say the song was chosen for Ringo for many reasons. They knew that the vocals were perfect for Ringo, and generally because it was thought that Ringo was a good actor and that if any of the Fab Four became actors, it would be Ringo. Ringo did actually pursue an acting career.
No... A stub?
Please sing into it if you can.
Ad blocker interference detected!
Wikia is a free-to-use site that makes money from advertising. We have a modified experience for viewers using ad blockers

Wikia is not accessible if you've made further modifications. Remove the custom ad blocker rule(s) and the page will load as expected.