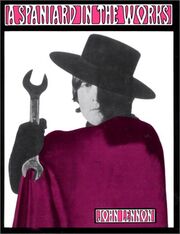 A Spaniard in the Works is a "poetic" kind of book written by English musician John Lennon. It didn't have a plot and it had a lot of pictures. It was John's second book to write. On the second film of the Beatles Help! John goes to a bookcase and gets his book A Spaniard In The Works. It also appears on many photos of the Beatles in John's hands. The book blurs the boundaries between fact and fiction.
Ad blocker interference detected!
Wikia is a free-to-use site that makes money from advertising. We have a modified experience for viewers using ad blockers

Wikia is not accessible if you've made further modifications. Remove the custom ad blocker rule(s) and the page will load as expected.